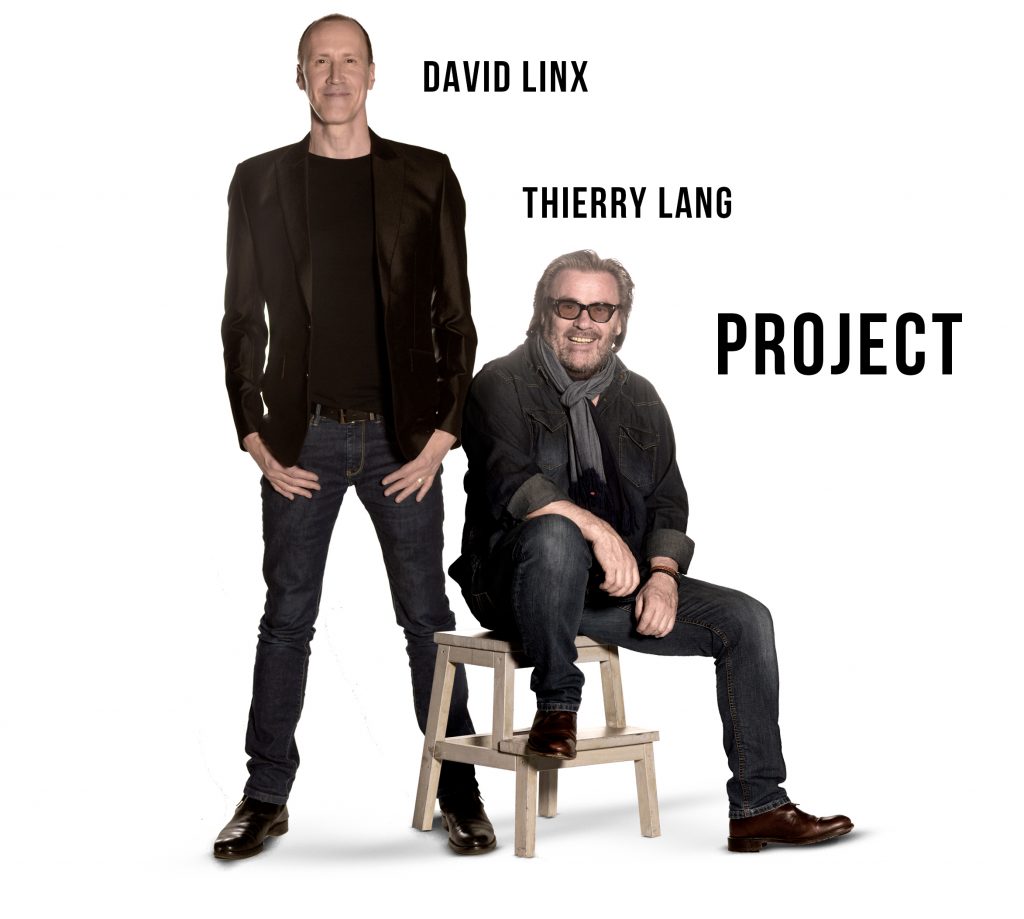 Thierry Lang was born on the 16th December 1956 in the small town of Romont in the canton of Fribourg. He started learning piano at the age of 5, and by the time he was 7 had decided to make piano his career. He excelled in classical piano studies until the age of 21 while at the same time developing a passion for jazz.
At age 15 he first heard pianist Bill Evans, who would influence his thinking for many years to come. Inspired by this music, Thierry Lang found the perfect link between classical and piano jazz which rapidly became the characteristic of his own musical expression. As a talented composer with a great sense of melody, he rapidly established himself as a master in this domain.
Thierry started working professionally in the mid-eighties, accompanying musicians of diverse styles including Blues, Be-Bop and Mainstream, and formed his first trio in 1987. In 1998 he met Toots Thielemans: a great friendship was born between the two musicians and led to a fruitful cooperation for many years.
In the nineties, Thierry published several albums: "Child's Memories", "Between a Smile and Tears", "Private Garden", (nominated "best album of the year" in Japan). He was then signed by Blue Note Recors, who released "Thierry Lang", one of his most acclaimed CDs.
In 2000, following the advice of his manager, he made a solo recording of some of Freddie Mercury's compositions. His version of "Guide me Home" became a big hit.
During 2003 he wrote, arranged and recorded 25 original compositions which formed the basis of a collection of 3 CDs entitled "Reflections vol 1, 2, 3" featuring guest artists Didier Lockwood, Olivier Ker Ourio, Paulo Fresu and Andi Schärer.
In 2004, Thierry Lang won the prestigious "Grand Prize of the Vaudoise Foundation for Promotion of Artistic Creation" and thanks to this award he could, at long last, treat himself to the piano of his dreams.
In 2012, he recorded "Night Wind", his first album for Universal. The same year he presented his creation "Colours of Time" at the Fribourg theatre, Équilibre. This ambitious original creation required more than a year's work to compose and bring together the Fribourg choir "Accroche- CÅ"ur" of 54 singers, the Fribourg Chamber Orchestra and the top class soloists such as the singer David Linx, the trumpeter Matthieu Michel, the drummer Andre Ceccarelli and the cellist Heiri Känzig. In 2015 the same trio released the album "Moments in Time" (Universal), which topped the charts in Japan.
During 2016, the year of his 60th birthday, Thierry Lang was busy on all fronts: Concert tours in Japan and Europe, Duo recording of an album with his faithful companion Heiri Känzig to celebrate 25 years of collaboration together, and the composition of a new creation "Emotions", ten original compositions for Jazz quartet and Sine Nominé, the famous classical string quartet (creation, 24th November, Reflet theatre, Vevey).
Thierry Lang has played and recorded with the most prestigious musicians including: Franco Ambrosetti, Ray Anderson, André Ceccarelli, Billy Cobham, Paolo Fresu, Johnny Griffin, George Gruntz, Reggie Johnson, Heiri Känzig, Olivier Ker Ourio, David Linx, Didier Lockwood, Andy McGhee, Matthieu Michel, Charlie Mariano, Bob Mintzr, Adam Nussbaum, Andy Pupato, Alvin Queen, Andy Scherrer, Jimmy Heath, Peter Schmiedlin, Toots Thielemans, Richard Galliano, Tina Turner, Marcel Papaux, Dino Saluzzi, Andreas Vollenweider, Furio di Castri, Pierre Favre, Art Farmer, Daniel Pezzotti, Marvin Stamm, Glenn Ferris and many more.
David Linx
Born in Brussels, Belgium, in 1965, David is a singer, composer, lyricist, producer and multi-instrumentalist.
In 1986 David's first acclaimed project « A Lover's Question » with writer James Baldwin reciting his poetry on music composed and produced by David and Pierre Van Dormael, put him in the limelight of the jazz world both in Europe and the USA. This cd with, a.o. Steve Coleman, Slide Hampton, Deborah Brown recorded in 1985 and 1986 and released in 1991 WAS re-released in 2000 by Label Bleu/Harmonia Mundi and comes with a book of poems and short stories (some previously unpublished), in English, translated in French by the late Hubert Nyssen, founder and owner of the Actes Sud Publishing House
In 1992 David got together with pianist and composer Diederik Wissels to form the legendary vocal-piano project that has never stopped recording and touring ever since, whether it be in duo, quartet, with Symphony Orchestra, etc. This widely acclaimed duo project is known to have given new life to contemporary vocal jazz and their songs appear in the Real Book of Sher Music. They have won numerous awards in many countries over the last 20 years. Their songs have been sung and/or recorded by many jazz vocalists such as Sheila Jordan, Maria Joao, Fay Claassen, Maria Pia de Vito, Norma Winstone, a.o.
In 2000 David recorded a CD of French songs 'l'Instant d'Après », all originals, produced by Craig Street (Liz Wright, Cassandra Wilson) for Polydor/Universal to wide acclaim by press and audiences over Europe. At the end of 2004 Linx & Wissels teamed up with the wonderful jazz vocalists Fay Claassen and Maria Pia de Vito to record « One Heart, Three Voices ». This project had them touring extensively for the next 3 years.
Many projects followed, like tree colaborations with the Brussels Jazz orchestra: "Changing Faces", "A Different Porgy and Another Bess", and "Brel", a celebration of Jacques Brel's repertoire, revisited and re- arranged. Recent award-winning CD's are "The Whistleblowers", "7000 Miles" and the freshly released "The Wordsmith" in duo with Michel Hatzigeorgiou.
David teaches at the Royal Conservatory of Brussels where he is in charge of the jazz vocal department since 1993 and has composed music for numerous scores for movies and documentaries. One of the movies won the first prize at Robert Redford's Sundance Festival.
David has sung the National Anthem in front of the King and the Queen of Belgium and over 800 000 people for the 175th anniversary of Belgium.
David has won the following awards:
– Knight of the Arts and Letters by French Minister of Culture, 2005
– Grand Prix of the Charles Cros Academy for Best Jazz record of the year, 2005
– Awarded Best European Jazz Musician by the Jazz Academy, 2005
– Knighted Knight of the Crown by the King of Belgium and Minister of Culture, 2008
– Grand Prix by the Jazz Academy for the Jazz-Opera «La Tectonique des Nuages » by Laurent Cugny, 2010
– Victoires De La Musique (European Grammy Awards) for best jazz-vocal album of the year with « Follow The Songlines », 2011 – Les Octaves De La Musique (Belgian Grammy's) for Best Jazz Album of the Year, 2013
– Sabam (Ascap) Jazz Award, 2013
– Octave d'honneur, 2017
– Edison Jazz Awards (in Holland), 2017
Some of the musicians David has worked with since the eighties:
Harry « Sweets » Edison, Johnny Griffin, Clark Terry, Slide Hampton, Natalie Dessay, The Count Basie Orchestra, Frank Foster, Toots Thielemans, Mino Cinelu, Marc Ducret, Philippe Catherine, Paolo Fresu, Erik Truffaz, Aka Moon, Khalil Chahine, Roy Ayers, Oumou Sangaré, Meshell Ndegeocello, Billy Cobham, Lena Willemark, Palle Danielsson, Jon Christensen, Didier Lockwood, Richard Galliano, Michel Portal, Abraham Laboriel, Kenny Wheeler, Claude Nougaro, Mark Murphy, Sheila Jordan, Ivan Lins, Daniel Humair, Gonzalo Rubalcaba, Omara Portuondo, Fay Claassen, Agnès Jaoui, Maria Pia de Vito, Irène Jacob, Rhoda Scott, John Clayton, Marc Ribot, Nguyên Lê, Craig Street, Ernie Wilkins, The Dutch Metropole Orchestra, Orchstra Jazz Della Sardegna, Steve Coleman, Jon Faddis, Ray Lema, Marc Ribot, Horace Parlan, Sahib Shihab, Andy Sheppard, Juan José Mosalini, Aldo Romano, Charlotte Rampling, Bob Stewart, Minino Garay, Hanna Schygulla, Maria Joao, Mario Laginha, Gustavo Beytelman, Maria de Medeiros David Gilmore, Maurane, Juliette, Greg Cohen, Michel Fugain, Tetê Espindola, Ray Lema, Kevin Breit, Claudio Roditi, Norma Winstone, Ibrahim Maalouf, Lenine, Cristina Zavalloni, Magic Malik, Tigran Hamasayan, Médéric Collignon, Jacques Schwartz-Bart, Miroslav Vitous, Hamilton de Holanda.