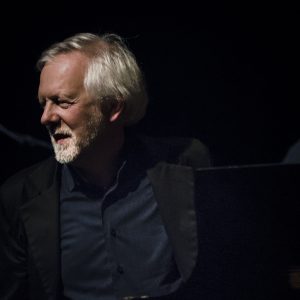 OTHER LANGUAGES ____
BIO ____
After his first public appearance in 1980, Ignasi Terraza (born in 1962) has played an important role in the Barcelona Jazz scene. His personal, swinging style has placed him amongst the most in demand accompanists in the City, allowing him to back up many of the American musicians visiting Spain, like Frank Wess, Jesse Davis, Gene "Mighty Flea" Conners, Teddy Edwards, Ralph Lalama, Lou Donaldson, Brad Leali or Donald Harrison as well as singers like Charmin Michelle, Randy Greer, Michelle McCain, Lavelle, Dee Daniels, Ann Hampton Callaway or Stacey Kent. Terraza has also been, since its inception, one of the key members of the Barcelona Jazz Orchestra.
But Terraza's favorite setting is, indeed, his trio: previous partners include the likes of bassists Pierre Boussaguet, Darryl Hall, Reggie Johnson or Horacio Fumero, and drummers Gregory Hutchinson, Bobby Durham, Jeff Hamilton, Alvin Queen, Jorge Rossy, Leon Parker or Victor Jones.
In 2005 created with Miriam Guardiola his own record Company, Swit Records, exclusively devoted to Jazz music. Today, Swit Records has published about thirty CDs and LPs, and it's present in Europe, Japan and the US.
In 2009 Ignasi was the winner of the prestigious Jacksonville Jazz Piano Competition in front of a Jury with members like Marcus Roberts or Dr. John.
In 2010 Terraza joined the Andrea Motis-Joan Chamorro band, one of the most popular emerging groups in Spain, working with them throughout Spain, Europe, Brazil and Turkey.
During the last ten years Terraza has kept busy playing around Spain, as well as in Festivals and club dates in Europe. Highlights include the Jazz Aux Remparts Festival in Bayonne, the Jazz in Marciac Festival, the Montreux Jazz Festival, Jazz a Ramatuelle, etc.
As of 2006 The Ignasi Terraza Trio toured Asia, playing in China, The Philippines, Thailand, Korea and Taiwan.
Influenced by Oscar Peterson, Wynton Kelly and Ahmad Jamal, and rooted in the classic Jazz tradition, Terraza is featured in more than twenty CDs, six of them in a Trio format.