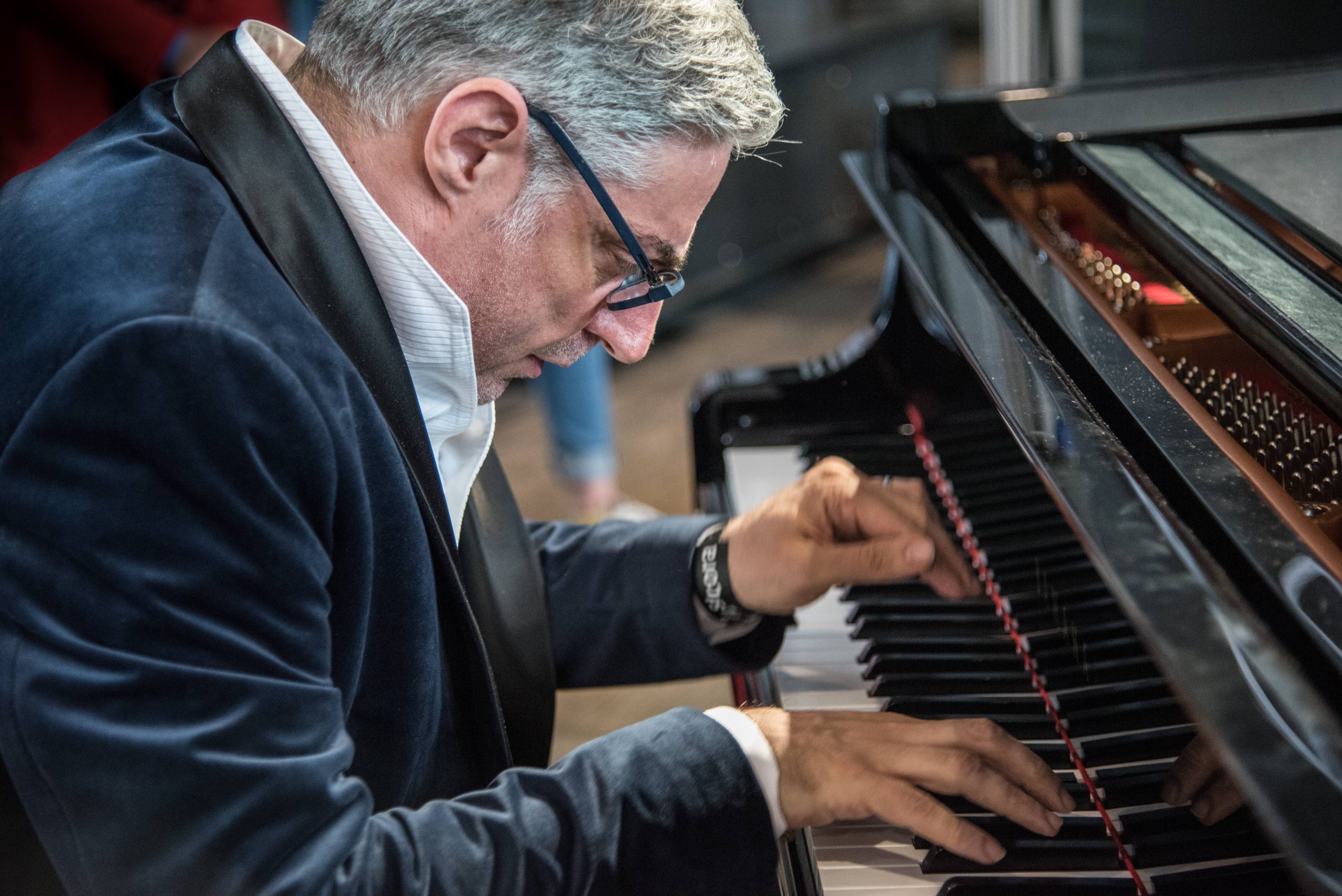 Giovanni Mirabassi is an Italian self-taught jazz pianist and composer, born in Perugia in 1970. He settled in Paris in 1992 and was soon spotted by Aldo Ciccolini, who took him under his wing. After self-producing an album in 1997, "Dyade", he signed a contract with record label Sketch. The much-acclaimed album "Architectures" was released in 1998, followed by a series of opuses which had a big impact. First came "Avanti!", in solo-piano format and dedicated to revolutionary songs from around the world – this album obtained a gold disc award and was the winner at the Victoires de la Musique competition. Then, in 2003, came (((Air))), with Glenn Ferris and Flavio Boltro which got the award Prix du meilleur disque de l'année, catégorie internationale, of the Académie Django Reinhard.
All Giovanni Mirabassi's albums have been highly praised by musical reviews and mark the beginning of an international career for the pianist, playing in Asia (Japan, Korea, China). Under the record label Discograph, he released several more albums: "Prima o poi", (2005), "Cantopiano" (2006), "Terra Furiosa" (2008), "Out of Track" (2009) and "Live @ the Blue Note, Tokyo (2010)
Constantly looking for new sounds, he did not hesitate to mobilize a string orchestra to enhance his new compositions: "Viva V.E.R.D.I" (2009). He also invited American vibraphonist Stefon Harris for some enchanting quartet dialogues on "No Way Out" (2015). All these projects make him a pianist-composer always in search of freedom and insolence but at the same time faithful to the tradition of inventive jazz and a spirit of protest. A balance always welcomed by his audience but not always by his reviewers …
There is also his passion for voice and songs, so recognizable in his right- hand piano playing. A passion that is expressed through projects in solo piano albums like "Cantopiano", improvisations on a program of French songs by Nougaro, Agnès Bihl, Lama, Gainsbourg, Jeanne Cherhal, etc. or "Adelante!" (2011) recorded in La Habana, which is like an echo to "Avanti!" and portraits Cuban revolutionary songs. This passion is also found in his piano/voice CDs, which combine the power of the texts and the jazzman's sensitivity: a tribute to Léo Ferré with Nicolas Reggiani ("Léo en liberté", 2004), a tribute to unloved authors like Allain Leprest, Daniel Darc or Philippe Léotard with Cyril Mokaiesh ("Naufragés", 2015) or a tribute to Bernard Dimey with Claire Taïb ("Chansons pour demain", 2016).
Around that time Giovanni met Jazz singer and songwriter Sarah Lancman, and decided to take her under his wing. They have done two albums together: "Inspiring Love" (2016) and "A contretemps", released in October 2017.
Mirabassi has always stood up for the maltreated, daily life resistant-fighters and strong-willed people, and it is no coincidence that his latest album, recorded in the auditorium of the prestigious Studio Bauer in Germany greets the talent of three great singers of the past, true icons in the three countries of his heart: Ella Fitzgerald the African-American singer, Edith Piaf, the French singer and Mercedes Sosa, the South American singer. Alone in front of his keyboard, Giovanni whispers with emotion to these three free women, in a way that only an Italian is able to do … with brio!