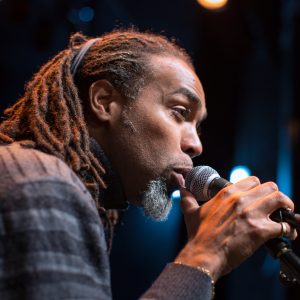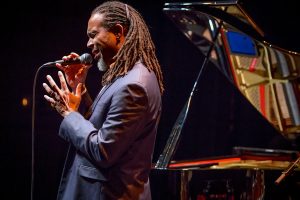 Download HD pictures: 1 · 2 · 3
OTHER LANGUAGES
__
biografía en castellano
BIO
__
Ronald Baker was born in Baltimore, Maryland, USA, in 1968. After studying trumpet at the Baltimore School for the Arts, he went on to pursue a bachelor's degree in music education at The Oberlin Conservatory of Music, where he had the opportunity to study with great teachers such as Donald Byrd, Kenny Davis, Wendell Logan, JJ Johnson, Jon Faddis or George Cables.
Ron moved to France in 1992, and it did not take long to establish himself as a quality trumpet player and singer in the European circuit: he has recorded 7 CDs as a leader and has appeared in many great Festivals in Europe and abroad, like the Festival de Jazz de Montreal (2003), New Jersey Jazz Festival, Jazz in Marciac (1997, 2002), Montreux Jazz Festival (1998), Festival de Jazz en Touraine (1997, 1999, 2000), Festival Django Reinhardt, Festival Jazzellerault, La Coursive scène nationale de La Rochelle, Festival de Jazz d'Orléans, Festival Jazz de Montpellier, Festival de Jazz de San Javier, Terrassa Jazz Festival and many others, either leading his own groups or as a sideman of Lou Donaldson, Curtis Fuller, Red Holloway, Jesse Davis or Antonio Hart.
Ronald Baker plays and sings in the best of the Jazz tradition, with an exquisite feeling and a remarkable swing. As a trumpet player his style has often been compared to Roy Eldridge, Miles Davis or Chet Baker. As a singer, his voice reflects the influences of Eddie Jefferson, Al Jarreau and George Benson.