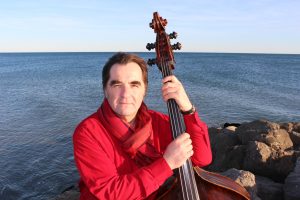 BIO ___

Pierre Boussaguet, originally from southwestern France, was born in Albi on november 12, 1962. A jazz bassist, his destiny has been filled with encounters of great talent. Pierre started his musical studies on the accordion during his childhood, and soon afterwards formed an orchestra to meet with popular demand. Playing in dance halls, Pierre's natural swing evolved into a joyful and melodic Jazz. The recognition that he received early on from the public encouraged Pierre's musical desire to grow and his artistic originality to develop.
Present during a concert of the Ray Bryant Trio, Pierre experienced a powerful emotion which would change his life; he decides suddenly to become a jazz bassist! The classical soloist Jean Cros accepts Pierre as a pupil on one condition; that Pierre would show the required discipline to become a professional jazz musician… In 1983, Jimmy Woode, the former bass player of Duke Ellington, took notice of Pïerre's passionate talent and invited him to work with him at his home in Zurich, Switzerland.
1985 would be a very important year for Pierre's developing career as he moved to Paris. The saxophonist Gerard Badini asked him to join his quartet and his Big Band « Super Swing Machine ». The same year he met with two very important people: the saxophonist Guy Lafitte, and world famous bass player Ray Brown. Pierre first met Guy Lafitte, and they would soon become great friends. During the following years they would share many wonderful moments of complicity, joy and love for music, on stage and off. Incidentally, Guy recorded an original composition of Pierre's called "Talma" for the generic of France Inter's radio program "The Next Time I'll Sing It To You" (presented by Philippe Meyer), in 1994. It is still being broadcasted today… Guy Lafitte passed on in 1998, leaving Pierre with many memories in which music would be the cement.
Pierre's collaboration with Ray Brown came about thanks to his seizing an opportunity to meet his mentor. To Pierre's surprise, Ray Brown takes him under his wing. The two musicians would put together a unique ensemble called "Two Bass Hits", uniting two jazz bassists and a pianist. They would perform regularly throughout Europe between 1988 and 1993 and would record two albums which became references.
In 1986, pianist Monty Alexander met Pierre for four concerts in Paris at the « le Petit Opportun". A few days later, Monty asked Pierre to play with him in Maastrich, thus opening the doors towards the select international scene. During concert tours with Monty Pierre worked with many great American musicians. Pierre is probably the only artist of his generation to have played with so many major jazz legends, following in the footsteps of his benevolent elder, Pierre Michelot.
Pierre Boussaguet possesses a big, deep sound with the rhythmic stability which is so "recherché" in the jazz scene. Diana Krall listened to her intuition when choosing him for her world tour " The Look of Love".
Wynton Marsalis dedicated a song to Pierre on his album "Marciac Suite".
Navigating between the studio and the stage, Pierre's projects are multiple and varied. His abilities enable him to be an "all terrain" bassist, at the same time developing personal projects such as "The Pierre Boussaguet Quintet" (with trumpet players Tom Harrell and Stéphane Belmondo, and pianist Jacky Terrasson), or his "Trio Europa", (with pianist Hervé Sellin and percussionist Alvin Queen), performing for audiences worldwide.
From 1998 onwards, Pierre is a confirmed composer, arranger and bass leader. His refined sense of harmony is appreciated by colleagues such as Randy Brecker, Bob Berg, Tom Harrell, Ray Brown… all of whom perform his compositions. Ivan Morane asks him to compose music for the sound and light show "The Builders of Saint Cécile", which was created for summer illuminations of the beautiful cathedral St. Cécile d'Albi (1997-2000). In 2004, Pierre devotes himself almost exclusively to composition and arranging, leading from the bass, a quartet with trombonist Sarah Morrow in a repertoire which reveals the connection between the music of Duke Ellington and…Elvis Presley!
Pierre plays and records regularly with pianists Niels Lan Doky, Catalan Ignasi Terrasa, Alain Jean-Marie (in hommage to Duke Ellington), and with guitarists Boulou and Ellios Ferré, Christian Escoudé…
In 2010, at the Festival of Beynes (near Paris), he creates "Jazz Meets the String Quartet",a real crossover between Jazz and Classical Music.
In 2012 he creates the "Mother Land" quartet and trio with pianist Vincent Bourgeyx, percussionist François Laizeau and trumpet player Nicolas Folmer.
Pierre has worked closely and extensively with two of the world's greatest composers, Lalo Schifrin (from 1996) and Michel Legrand (from 2009). Performing with these two incomparable artists would have him navigating between different musical universes and formations, from Jazz to classical music, from Tangos to film scores, accompaning in trio Nathalie Dessay, or with quintets, big bands, string and symphonic orchestras…
Lalo Schifrin would say about him: "Pierre Boussaguet is one of the greatest virtuosos of the double bass. I know him and have worked with him for many years and have always been impressed with his tone, clarity, rhythmic energy and creative lines. Pierre Boussaguet is part of a legacy of great bass players in the history of Jazz and for me, I feel very fortunate to have been able to collaborate with him."
Pierre Boussaguet published in 2009 his string bass method, which is widely recognized in the professional milieu. The BBB (Boussaguet Bass Book) is accessible to bass players of all levels. His method doesn't focus only on bass technique, it also encompasses everything concerning music.
Michel Legrand writes: "If you desire to play the string bass one day as well as Pierre Boussaguet, study his method, practice, and thank him for this work."
Lalo Schifrin writes: "My advise to every student of the double bass, and especially of jazz, is to read and analyze his fantastic essay and apply what they learn to their own playing."
Well done!

1)…a collection of 34 daily exercises, "Bass Fundamentals" is the equivalent of "Hanon"
2)…a solo album with a wide repertoire, from Bach to Legrand via the theme from "Mission Impossible" (Lalo Schifrin) in re-recording. A "must" in the genre.
3)…His two very original works (BBB and Bass Fundamentals) are anthologies for the bass. Until now, no other musician has treated these subjects in this way. They are an in depth development of the Ray Brown method. (1963)
4) A DVD + CD of his « Mother Land Quartet » where he is performing his own music
Following is a non exhaustive list of musicians with whom Pierre Boussaguet has shared the stage:
Milt Jackson, Harry "Sweets" Edison, Clark Terry, Johnny Griffin, Benny Carter, Monty Alexander, Tommy Flanagan, Jimmy Rowles, Joe Pass, Kenny Burrell, Tete Montoliù, Barney Kessel, Daniel Humair, Phil Woods, Bob Berg, Randy Brecker, Lou Donaldson, Herb Ellis, Cedar Walton, Bud Shank, Jeff Hamilton, Wynton Marsalis, Dizzy Gillespie, Joe Henderson, Alvin Queen, Hank Jones, Kenny Drew, Didier Lockwood, Christian Escoudé, Ed Thigpen, Bobby Durham, Ray Bryant, Lew tabackin, Dee Dee Bridgewater, Barbara Hendricks, Lee Konitz, James Morrison, Alex Riel, Jacky terrasson, Philippe Catherine, Terri Lyne Carrington, Ulf Wakenius, George Robert, André Ceccarelli, Dado Moroni…
and even one evening with.. Elton John,
but also with bass players other than Ray Brown:
Heyn Van de Geyn, Henri Texier, Andy McKee, Darry Hall, Jesper Lundgaard, Cédric Caillaud,Harry Swift, santi de Briano… and Frédéric Monino,electric bass virtuoso.
Pierre Boussaguet is a master who improves with time!
www.boussaguet.biz
www.2mceditions.com