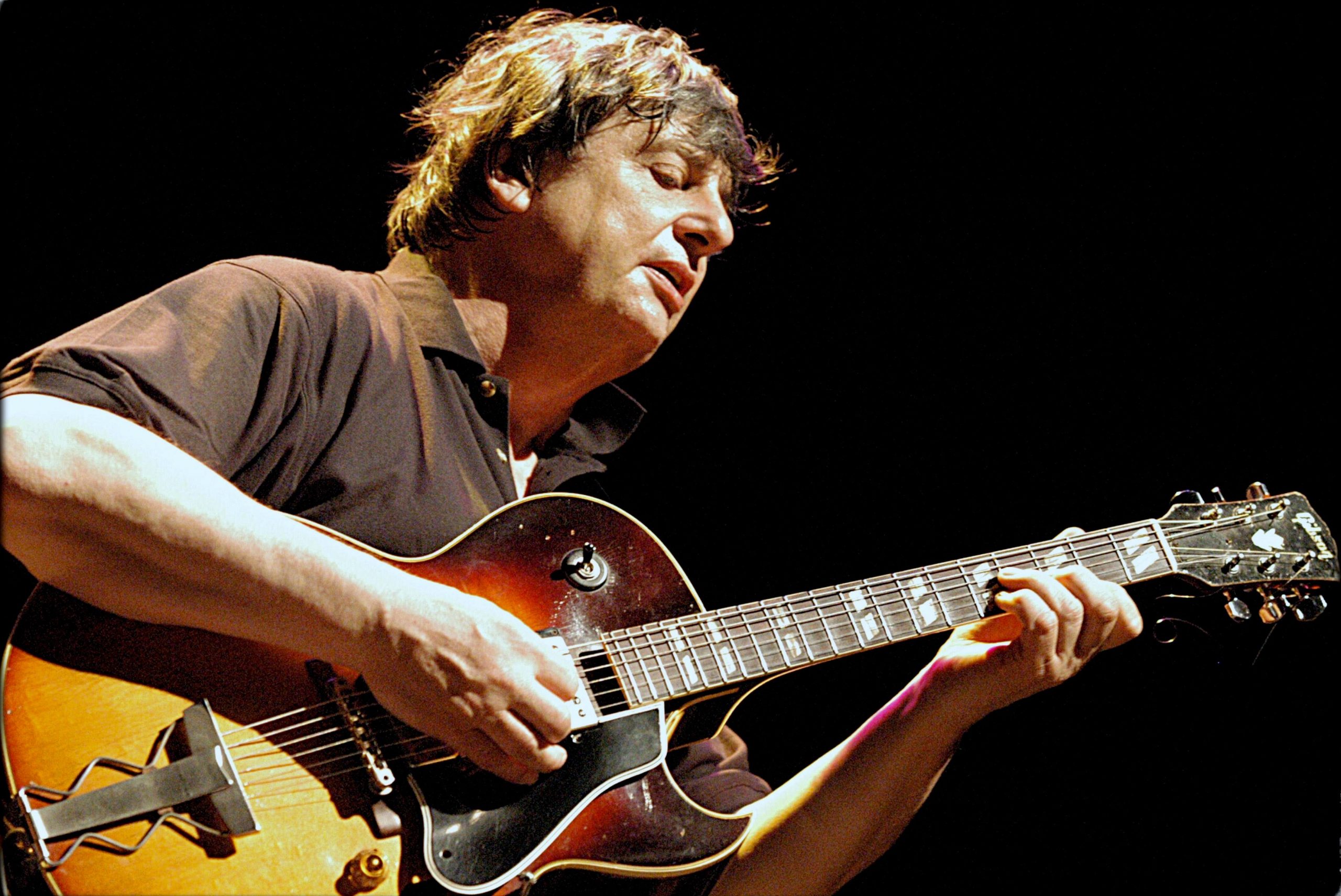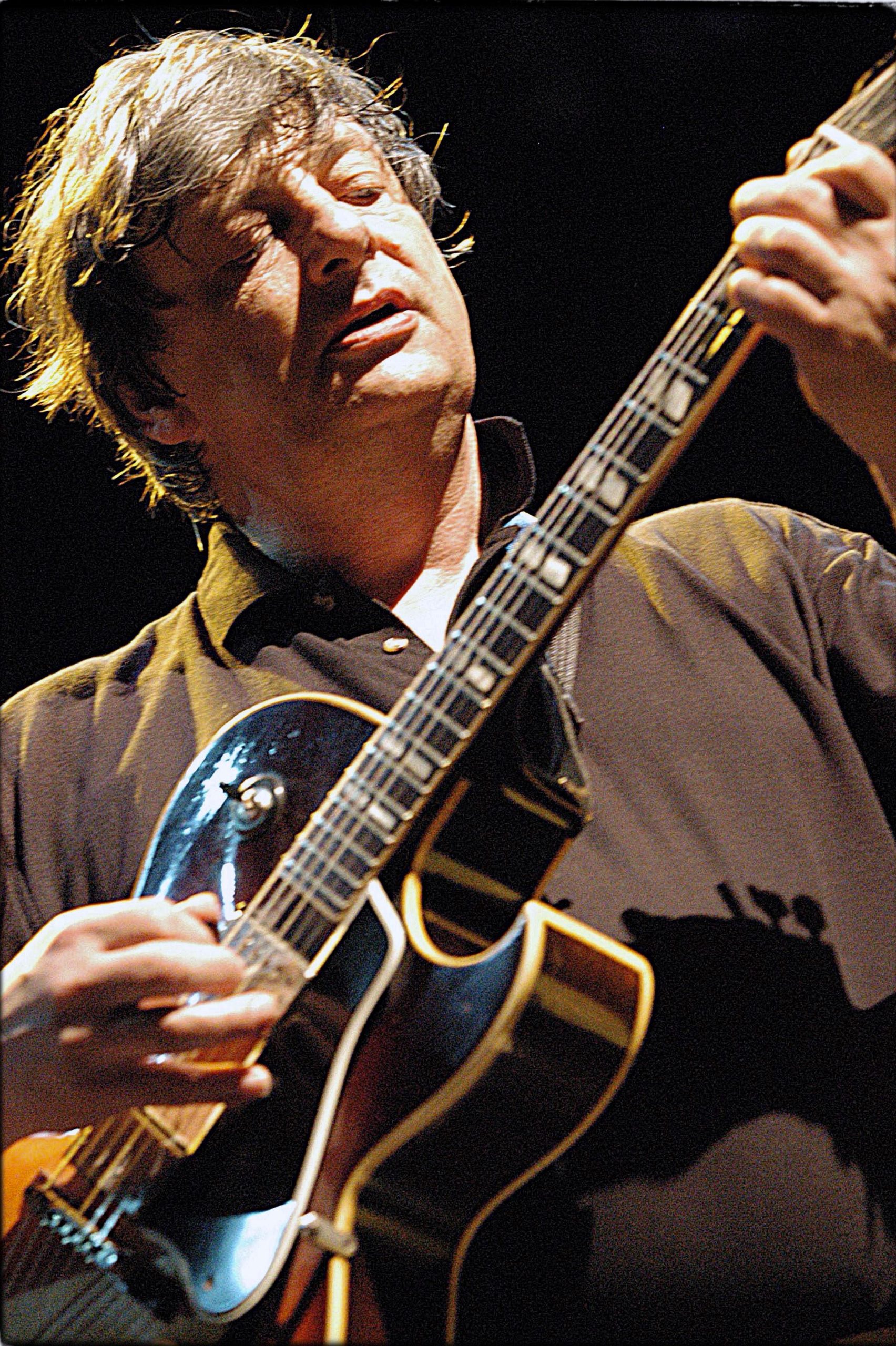 OTHER LANGUAGES
____
bio in english
BIO
__
Philip Catherine ha estado en primera línea del Jazz Europeo desde los años sesenta. Su trabajo junto a gigantes como Chet Baker, Larry Coryell, Tom Harrell, Niels-Henning Ørsted Pedersen, Stephane Grappelli ó Charles Mingus, su concepción original, su sonido personal y su total compromiso con la música han sido importantes y de gran influencia.
Philip nació en Londres en 1942, en el seno de una familia musical (su abuelo fué primer violín en la Orquesta Sinfónica de Londres) y desarrolló su afición a la música desde la infancia. Aprendió la guitarra tras descubrir a George Brassens y Django Reinhardt, y pronto empezó a escuchar a los jazzmen contemporáneos, con los que tuvo, mas tarde, ocasión de compartir escenario en Bélgica, pais en el que la familia fijó su residencia.
A los 18 años efectuó su primera gira Europea junto a Lou Bennett (actuando en el viejo Jamboree de Barcelona), y en 1971 se unió al grupo de Jean-Luc Ponty. En 1974-1975 grabó sus primeros discos como líder, "September Man" y "Guitars".
Philip ha actuado en los teatros más prestigiosos del mundo, como Berlin Philharmonic, el Carnegie Hall de New York, el Concertgebouw de Amsterdam, el Olympia y la Salle Pleyel en Paris ó el Palais des Beaux-Arts de Bruselas, aunque le encanta tocar también en pequeños clubs de Jazz, donde el contacto con el público es mucho más íntimo.
Además de con trios y cuartetos de Jazz, Catherine ha efectuado varios trabajos con grandes orquestas y agrupaciones de cámara, lo que le permite expresar el lado más íntimo de sus composiciones e interpretaciones.
Philip Catherine ha obtenido muchas distinciones, entre ellas el premio "BIRD" Prize (1990), conjuntamente con Stan Getz, en el North Sea Festival, el "Django D'Or" (1998) en Paris como "mejor artista Europeo de Jazz" y el premio ZAMU por sus contribuciones a lo largo de su carrera. En Noviembre de 2002 recibió el título de "Maestro Honoris Causa" por el Conservatorio de Amberes.
In 1997 Philip Catherine fué contratado por el sello Dreyfus Records. Su primer disco para la marca, simplemente llamado "Live" (la primera grabación en directo de toda su carrera!) fué muy bien valorado por la prensa internacional (4 estrellas en Down Beat, best album of the year en Jazz Nu, etc.). Pronto siguieron "Guitar Groove" (1998) y "Blue Prince" (2000) (Record of the Year en JazzMan). "Summer Night" se publica en Octubre de 2002. "Meeting Colours", en colaboración con la Brussels Jazz Orchestra, está en el mercado desde 2005, y su primer CD en solo "Guitars Two", se edita en 2008. Sus últimos discos publicados son "Concert in Capreton" (2010), "Plays Cole Porter" (2011), y "Côté Jardin" (2012), estos dos últimos para el sello Chalenge Records.
DISCOGRAFÍA SELECCIONADA:
Bajo su nombre :
* SEPTEMBER MAN (1975) Atlantic 40 562
* GUITARS (1975) Atlantic 50 193
* BABEL (1980) Electra 52 244
* END OF AUGUST (1982) WeA K 58 450-
*TRANSPARENCE (1986) Inakustik 8701CD
* SEPTEMBER SKY (1988) September 5106CD
* OSCAR (1988) Igloo 060CD
* I REMEMBER YOU (1990) Criss Cross
* MOODS, vol. I (1992) Criss Cross 1060
* MOODS, vol. II Criss Cross 1061
* LIVE (1997) Dreyfus Jazz FDM 36587
* GUITAR GROOVE (1998) Dreyfus Jazz FDM 36599
* BLUE PRINCE (2000) Dreyfus Jazz FDM 36614
* SUMMER NIGHT (2002) Dreyfus Jazz FDM 36637
* MEETING COLOURS (4/2005) Dreyfus Jazz FDM 36675
* GUITARS TWO (1/2008) Dreyfus Jazz FDM 46050
* CONCERT IN CAPRETON (2010) Dreyfus Jazz FDM 369412
* PLAYS COLE PORTER (2011) Challenge CHR 70166
* CÔTÉ JARDIN (2012) Challenge CHR 70178
y con :
Chet BAKER : "Baker/Catherine/ Rassinfosse" Igloo 034CD
"Chet's Choice" Criss Cross 1016 CD
"Strollin" Enja 5005CD
"In Bologna, Live" Dreyfus 191 133-2
Stéphane GRAPPELLI: "Young Django" MPS 15510
"Live 1992" Birdology 517392-2
"Grappelli/Ponty/Catherine" America 6139
Larry CORYELL : "Twin House" Atlantic 50 342
"Splendid" Electra 52 986
N.H.Ø. PEDERSEN : "The Viking" Pablo 2310 894
"Art of the Duo" Enja 8016-2
Dexter GORDON: "Something Different" Steeple Chase Scs 1136
Charlie MINGUS : "Three or Four Shades of Blue" Atlantic SD 1700
Charlie MARIANO : "Sleep my Love" Contemp LC 6055CD
"Operanoia" ('96) Intuition 3158 2
Didier LOCKWOOD/Chr. ESCOUDE: "Trio" JMS 031
Carla BLEY/Mike MANTLER : "More Movies" Watt 10A/1A
Michaël GIBBS "The Only Chrome Waterfall Orch" Bronze BR 2012
Barney WILEN/Palle DANIELSSON : "Sanctuary" IDA 029CD
Jacques PELZER "Tribute to the Band Box" Igloo 106
Emmanuel BEX/Aldo ROMANO : "Trios"
SOLEDAD "Passage–the music of F. Devreese" EMI/Virgin Classics