FOTO
__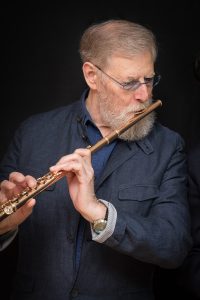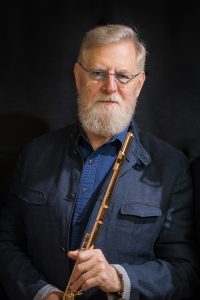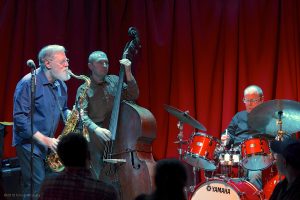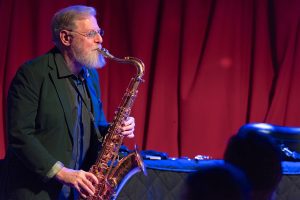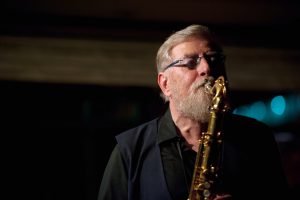 Descargar en HD: 1 · 2 · 3 · 4 · 5
OTHER LANGUAGES
__
See Bio in english
BIO
__
Nacido en Philadelphia, USA, en 1940, Lew Tabackin forma parte de la elite de grandes instrumentistas de su generación. Compositor, arreglador, director de orquesta, saxofonista y flautista, ha sido descrito por el critico Scott Yanow como "uno de los pocos músicos de Jazz capaz de desarrollar dos personalidades musicales radicalmente diferentes en dos instrumentos distintos, con su robusto estilo "hard bop" al saxo tenor contrastando con su delicadas interpretaciones a la flauta".
Tabackin estudió en el Conservatorio de Philadelphia y, tras su graduación, se trasladó a New York, donde tuvo la oportunidad de trabajar con Tal Farlow, Don Friedman y en las big bands de Cab Calloway, Les & Larry Elgart, Maynard Ferguson, Joe Henderson, Chuck Israels, Thad Jones & Mel Lewis, Clark Terry y Duke Pearson, así como en pequeños grupos junto a Donald Byrd, Roland Hanna, Elvin Jones y Attila Zoller.
Lew conoció a la pianista Toshiko Akiyoshi en 1968. La pareja se trasladó a Los Angeles, donde Akiyoshi formó su histórica "Toshiko Akiyoshi Jazz Orchestra", en la que Lew tuvo un papel muy destacado como solista. Durante esta época trabajó también en pequeños grupos junto Shelly Manne, Billy Higgins, John Heard y Charlie Haden.
En 1982 Akiyoshi y Tabackin se instalaron definitivamente en New York y, desde entonces, Lew alternó su participación en la "Jazz Orchestra" de Toshiko con la dirección de sus propios grupos, colaborando además con diferentes grupos de "all stars", como The Newport All-Stars, The New York Jazz Giants, y la Carnegie Hall Jazz Band, generalmente asociados al productor George Wein.
Ha grabado una treintena de discos como lider: Tabackin (Inner City, 1974), Day Dream (RCA, 1976), Tenor Gladness (Discomate/Inner City, 1976), Dual Nature (Inner City, 1976), Trackin' (RCA, 1976), Rites of Pan (Discomate/Inner City, 1977), Vintage Tenor (RCA, 1978) Lew Tabackin Meets the Tadpoles (Insights, 1979), Black and Tan Fantasy (Discomate/Ascent 1979), Phil Woods/Lew Tabackin (Omnisound/Evidence, 1980), Threedom (Discomate, 1980) Duo: John Lewis & Lew Tabackin (Toshiba EMI, 1981), My Old Flame (Atlas, 1982), Lew Tabackin Quartet with Randy Brecker (Toshiba EMI, 1983), Angelica (Toshiba EMI, 1985), Desert Lady (Concord, 1989), I'll Be Seeing You (Concord, 1992), What a Little Moonlight Can Do (Concord, 1994), Live at Vartan's (Vartan Jazz, 1994), L' Archiduc-Round About Five (Igloo Jazz, 1996), Tenority (Concord, 1996), In a Sentimental Mood (Camerata/Insights, 1998), Pyramid (Koch Jazz, 1999), Tanuki's Night Out (2002), Vintage: Duke Ellington Songbook (T-toc Records, 2008), Live in Paris (2008), Jazz na Hradě (Multisonic, 2010) y Soundscapes (2016), además de participar en una infinidad de sesiones de grabación junto a Toshiko Akiyoshi, Maynard Ferguson, Jimmy Knepper, Duke Pearson, Donald Byrd, Shelly Manne, The Manhattan Transfer, Tom Waits, Freddy Hubbard, Benny Carter y muchos otros.