PHOTO
__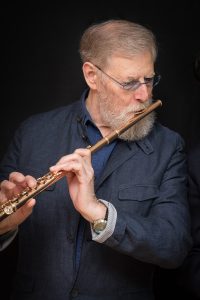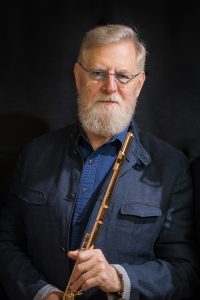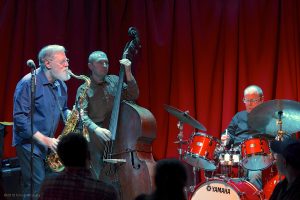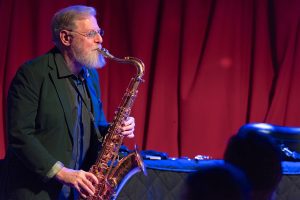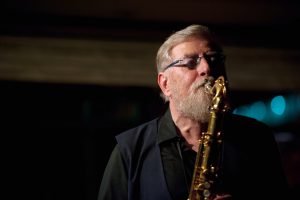 Download in HD: 1 – 2 – 3 – 4 – 5
OTROS IDIOMAS
__
Ver Bio en español
BIO
__
Lew TABACKIN's interest in music began in his birthplace, Philadelphia, where he majored in flute at the Conservatory of Music. He moved then to New York, where he spent seven musically active years, holding regular gigs with his own trio as well as playing in the big bands of Clark TERRY, Chuck ISRAELS and Thad JONES-Mel LEWIS.
Lew met Toshiko AKIYOSHI in '68, when the two played together in a quartet. Eventually they got married and moved to Los Angeles, where they formed the award-winning big band now known as "The Toshiko Akiyoshi Jazz Orchestra" with Lew being the principal soloist in the band.
In Los Angeles Lew gigged with Shelly MANNE and with various trios of his own with Billy HIGGINS, John HEARD, Charlie HADEN. He also toured Japan frequently with Toshiko and the big band. In the '80s, Lew began to get some long overdue recognition as a flutist, winning many critics' and reader's polls in Down Beat Magazine.
In '82, Lew and Toshiko moved back to New York, which put Lew back into the all- important Manhattan Jazz scene. Since that move, he has developed more and more as a major force on tenor saxophone and flute, and as a recording artist, with about 30 sessions under his name: Tabackin (Inner City, 1974), Day Dream (RCA, 1976), Tenor Gladness (Discomate/Inner City, 1976), Dual Nature (Inner City, 1976), Trackin' (RCA, 1976), Rites of Pan (Discomate/Inner City, 1977), Vintage Tenor (RCA, 1978) Lew Tabackin Meets the Tadpoles (Insights, 1979), Black and Tan Fantasy (Discomate/Ascent 1979), Phil Woods/Lew Tabackin (Omnisound/Evidence, 1980), Threedom (Discomate, 1980) Duo: John Lewis & Lew Tabackin (Toshiba EMI, 1981), My Old Flame (Atlas, 1982), Lew Tabackin Quartet with Randy Brecker (Toshiba EMI, 1983), Angelica (Toshiba EMI, 1985), Desert Lady (Concord, 1989), I'll Be Seeing You (Concord, 1992), What a Little Moonlight Can Do (Concord, 1994), Live at Vartan's (Vartan Jazz, 1994), L'Archiduc-Round About Five (Igloo Jazz, 1996), Tenority (Concord, 1996), In a Sentimental Mood (Camerata/Insights, 1998), Pyramid (Koch Jazz, 1999), Tanuki's Night Out (2002), Vintage: Duke Ellington Songbook (T-toc Records, 2008), Live in Paris (2008), Jazz na Hradě (Multisonic, 2010) y Soundscapes (2016). He has also recorded with Toshiko Akiyoshi, Maynard Ferguson, Jimmy Knepper, Duke Pearson, Donald Byrd, Shelly Manne, The Manhattan Transfer, Tom Waits, Freddy Hubbard, Benny Carter and many other top- class Artists.
Lew TABACKIN has also been associated with several all-star bands, including George WEIN's Newport All Star Band, The New-York Jazz Giants, The Carnegie Hall Jazz Band. Additionally, he has continued to tour around the world as a soloist, playing clubs and Jazz festivals with his own groups, and as featured soloist with the Toshiko Akiyoshi Jazz Orchestra.