VIDEO __

PHOTO
__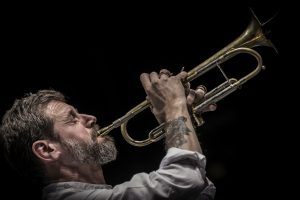 Download HD pictures: 1
OTROS IDIOMAS
__
Ver Bio en español
BIO
__
Fabrizio Bosso was born in Torino, Italy, in 1973. He started playing trumpet at age 5. By the time he was 15 he had graduated from the Conservatorio Giuseppe Verdi in Torino, and later attended St. Mary's College in Washington DC. In 1999 was named "Greatest New Talent" by the Italian magazine Musica Jazz.
His first recording, "Fast Flight", appeared in 2000. He has since released over 25 sessions (in 16 years!) including highlights such as "Jazz For More" (2002), "Jazz Desire" (2004), "You've Changed" (2007), "Sol" (2008), "Five For Fun" (2008), "Split Kick" (2010), "Purple" (2013), "Duke" (2015), "Spiritual" (2016) and "State Of The Art" (2017).
He has placed with George Russell, Mike Gibbs, Kenny Wheeler, Dave Liebman, Bob Mintzer, Randy Brecker, Carla Bley and Steve Coleman, and was contracted by Charlie Haden for some of the promotional tours of the classic "Liberation Music" Album.
In Italy, where he is considered amongst the greatest Jazz musicians of today, Bosso has worked with Gianni Basso, Stefano Di Battista, Salvatore Bonafede, Giovanni Mazzarino and Enrico Pieranunzi. He has played in a duo format with Rossano Sportiello (in a tribute to Louis Armstrong), in trio with Franco D'Andrea and Gianluca Petrella, and has led many different quartets and quintets. He has also recorded with his trumpet-peer Flavio Boltro.
Fabrizio Bosso plays with an impressive technique, derived from his classical music background, but –at the same time- with a warm sound, a very articulated phrasing and a great sense of swing.