VIDEO
__
PHOTO
__


click here to download this photo

click here to download this photo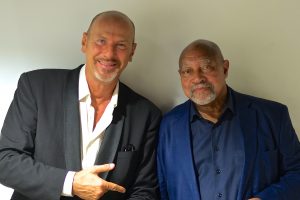 BIO
__
Edgardo "Dado" Moroni was born in Genoa, Italy, in 1962. Dado was exposed very early to Jazz music, thanks to his parents' record collection, and he started playing piano at age four.
Basically self taught, Fats Waller, Earl Hines, Teddy Wilson, Art Tatum and Erroll Garner were his first influences and Dado tried to learn their solos by ear until, around age 11, he met local Jazz pianist Flavio Crivelli, who gave him a more formal training and introduced him to the music of Charlie Parker, Bud Powell, Dizzy Gillespie and more contemporary pianists like Bill Evans, Ahmad Jamal and Oscar Peterson.
Dado started playing professionally from age 14, with the most important Italian Jazz musicians such as Gianni Basso, Franco Cerri, Sergio Fanni, Luciano Milanese, Massimo Urbani, Sandro Gibellini and Tullio De Piscopo, performing in clubs and concerts throughout the country and in 1979, at age 17, he recorded his first album in trio with Tullio De Piscopo on drums and American bassist Julius Farmer. In that same year, the encounter with Swiss trumpet star Franco Ambrosetti introduced Dado to the international Jazz scene with the invitation to the Lugano Jazz Festival where Dado found himself sharing the stage with Ambrosetti, Chet Baker and Johnny Griffin. Dado returned the favor a year later, when he recorded a second album under his name, calling Ambrosetti along with Danish bass wonder Niels Henning Ørsted Pedersen and, again, De Piscopo on drums.
In 1983, at the Sanremo Jazz Festival where Dado was performing with Ambrosetti, he met Ellington's former bassist Jimmy Woode and Basie's sweetest trumpet man, Harry Sweets Edison, who recommended him to Arnold Burri, owner of the famous WIDDER BAR in Zurich, one of the most important Jazz spots in Europe, where Dado started working in the fall of that same year with the James Moody quartet. Successively, Dado joined the Jimmy Woode Trio, with Alvin Queen or Sangoma Everett sharing the drum chair, often working as "house rhythm section" at the Widder and playing all over Europe backing Jazz giants such as Clark Terry, Freddie Hubbard, Bud Shank, Buddy De Franco, Zoot Sims and many others.
In 1984, Jimmy Woode introduced Dado to a talented young altosaxophonist, George Robert, and the two started a long lasting friendship and collaboration culminating, in 1987, with the foundation of the George Robert/Tom Harrell Quintet (with Dado on piano, Reggie Johnson on bass and Bill Goodwin on drums). This band recorded four CD's and performed extensively in the U. S. and in Europe receiving international acclaim.
Also in 1987, other very important events occurred, beginning with Dado's encounter with bass legend Ray Brown. Together with one of Ray's most talented protégé, Pierre Boussaguet, they formed the trio "Two Bass Hits"and appeared in many important European festivals also recording a CD for French label EMP. In that year, Dado made his first New York recording with the other bass master, Ron Carter (Ron Carter presents Dado Moroni-with Grady Tate and Gene Bertoncini) for Emarcy Japan. Other events include his summer tours with the Mingus Dynasty, the Paris Reunion Band and the invitation to serve on the jury (the other judges being Sir Roland Hanna, Hank Jones, Barry Harris and Roger Kellaway) for the first Thelonious Monk Jazz Competition, won by pianist Marcus Roberts.
In 1989, as member of the Alvin Queen Quintet (Bill Saxton, Nathen Page, Leonard Jones and Adrienne West), Dado took part in a 5 week tour of Africa, for the U. S. State Department and in 1991, to celebrate Switzerland's 700th anniversary, as member of the George Robert Quartet (Isla Eckinger on bass and Peter Schmidlin on drums plus Clark Terry as special guest), Dado went on a 5 month World Tour that took the band to the U. S. , Canada, Hawaii, the Philippines, Singapore, Indonesia, Hong Kong, Malaysia, Thailand, India and the United Arab Emirates. Later that year, Dado decided to move to the U.S., where he became part of the New York Jazz scene, appearing regularly, both as a leader and sideman, in some of the most prestigiuos clubs like The Blue Note, Sweet Basil, Birdland, The Village Vanguard, Visiones, Bradley's as well as participating in several recordings.
In 1992 Dado formed a new trio with bassist Rosario Bonaccorso and drummer Gianni Cazzola. With this formation he recorded a CD for Splasc(h), "What's new", featuring mostly his own compositions and in that
same year, during Columbus Day's celebrations, Dado, Enrico Rava, Lee Konitz, Ray Brown, Franco Cerri and Vernel Fournier were the first Jazz musicians to perform at the Carlo Felice Theater in Genoa and, a year later, again during the same period, with the help of Ligurian sponsors, Dado was given a week at Bradley's in N. Y. with his own group featuring Franco Ambrosetti on trumpet, Gary Bartz on altosax, Peter Washington on bass and Bill Goodwin on drums.
In 1994 Ray Brown invited Dado to join fellow pianists Oscar Peterson, Ahmad Jamal, Benny Green and Geoff Keezer for the recording of a CD entitled "Some of my best friends are. . . the piano players" (Telarc Jazz) and Dado's rendition of Coltrane's Giant Steps caught the critic's attention. In the same year Dado also recorded another CD under his own name, "Insights" for the Canadian label Jazz Focus, with Peter Washington on bass and drummer extraordinaire Jimmy Cobb. Also in 1994, together with American singer Adrienne West, Dado formed the group "Tribute to Nat King Cole" (with bassist Rosario Bonaccorso and guitarist Alessio Menconi) and recorded a CD for Dire/Sony entitled "Dear Nat".
In the spring of 1995, together with internationally known classical pianist Antonio Ballista, Dado started a project called "Two Pianos One Soul" obtaining great success in many italian theaters among which were Teatro Comunale di Ferrara, Teatro Regio di Torino, Teatro Verdi di Firenze and Teatro Carlo Felice di Genova, a tour of Spain and France with Clark Terry, Pierre Boussaguet and Idris Muhammad and in the fall of that year Dado was invited to perform at the Mount Fuji/Concord Jazz Festival in a two week tour of Japan, together with the Concord All Stars, the Ray Brown Trio and the Modern Jazz Quartet.
In 1999, two of the most interesting projects were a four piano concert held at Teatro Comunale di Ferrara (featuring two Italians, Dado and Andrea Pozza, and two American masters, Kenny Barron and John Hicks) and a series of concerts with Ron Carter on bass and Billy Drummond on drums, including the prestigious Vicenza International Jazz Festival. In that same year, Dado was included in the Biographical Encyclopedia of Jazz, written by Leonard Feather and Ira Gitler.
In 2000, the great Belgian trumpeter, composer and arranger Bert Joris invited Dado to be a part of his quartet for a tour of Europe and the recording of a CD that was enthusiastically received by the public and the critic, "Bert Joris Quartet Live" for the Dewerf label. From Belgium to Holland the step is very small so, thanks to one of his New York based friends, bassist Joris Teepe, Dado met percussionist Jeroen De Rijk and drummer/vibist Frits Landesbergen and that was the start of yet another band, "Four Of A Kind" with Teepe or Theo De Jong sharing the bass chair.
Since 2001, Dado has been dividing his time between the U. S. and Europe, continuously performing all over the world and in 2005 he had the honor to participate in the ninth edition of "100 Gold Fingers", a Japanese production dedicated to the piano. Dado was the only European on the tour (the others being Junior Mance, Ray Bryant, Cedar Walton, Kenny Barron, Toshiko Akyoshi, Don Friedman, Benny Green, Cyrus Chestnut and Eric Reed, plus bassist Bob Cranshaw and drummer Grady Tate). The group played in 10 Japanese cities and recorded a live CD in Tokyo.
In March 2006, Dado performed at New York's most prestigious Jazz club, Birdland, with Peter Washington on bass and Lewis Nash on drums. In May, he and Kenny Barron played two concerts in Italy, together with Ira Coleman and Riccardo Fioravanti on bass and Alvin Queen on drums.
Currently, Dado is performing with the Enrico Rava/Dado Moroni Duo, the Roberto Gatto Quintet, the Franco Ambrosetti Quintet, the Bert Joris/Dado Moroni quartet, Psychodrum (with Riccardo Fioravanti on bass, Stefano Bagnoli on drums, Enzo Zirilli on drums and percussions and Andrea Dulbecco on vibes and marimba), 4 Of A Kind and the Dado Moroni /Peter Washington /Lewis Nash trio.
Among others he has performed with: Dizzy Gillespie, Clark Terry, Wynton Marsalis, Harry Edison, Nicholas Payton, Art Farmer, Joe Newman, Nat Adderley, Conte Candoli, Bobby Shew, Woody Shaw, Chet Baker, Freddie Hubbard, Dusko Gojkovic, Tom Harrell, Bert Joris, Franco Ambrosetti, Warren Vaché, Ingrid Jensen, Fabrizio Bosso, Jon Faddis, Enrico Rava, Valery Ponomarev, Benny Bailey, Paolo Fresu, Joe Magnarelli, Flavio Boltro, Roy Hargrove, Eddie Henderson, Marco Tamburini, James Moody, Teddy Edwards, Pete Christlieb, Sal Nistico, Eddie "Lockjaw" Davis, Guy Lafitte, Gary Bartz, Jed Levy, Johnny Griffin, Arnett Cobb,
Al Cohn, Bud Shank, Chris Potter, Bob Mintzer, Daniele Scannapieco, Seamus Blake, Bob Bonisolo, Gianni Basso, Rick Margitza, Sam Rivers, Lew Tabackin, Zoot Sims, Clifford Jordan, Gianluca Ambrosetti, Joe Henderson, Tony Scott, Buddy De Franco, Steve Wilson, Frank Wess, Rosario Giuliani, Vincent Herring, Maurizio Giammarco, George Robert, Bobby Watson, Stefano Di Battista, Charlie Mariano, Jesse Davis, Javier Girotto, Plas Johnson, Eric Alexander, Jimmy Heath, Harry Allen, Hendrik Meurkens, Slide Hampton, Gianluca Petrella, Curtis Fuller, John Allred, Robin Eubanks, Al Grey, Joe Pass, Bebo Ferra, Herb Ellis, Joe Cohn, Martin Taylor, Peter Bernstein, Terry Gibbs, David Friedman, Ray Brown, Jimmy Woode, Niels Henning Ørsted Pedersen, Ron Carter, Red Mitchell, Buster Williams, Reggie Johnson, Pierre Boussaguet, Dennis Irwin, Ray Drummond, Peter Washington, Ira Coleman, Jesper Lundgaard, Major Holley, Isla Eckinger, Eddie Jones, Wilbur Little, Mike Richmond, Pat O'Leary, Todd Coolman, Nat Reeves, Bob Cranshaw, Luca Bulgarelli, Hein Van Der Geyn, Jimmy Haslip, Julius Farmer, John Clayton, Ares Tavolazzi, Aldo Zunino, Essiet Essiet, Dario Deidda, Riccardo Fioravanti, Stephan Kurmann, Percy Heath, George Mraz, Rosario Bonaccorso, Ed Howard, Furio Di Castri, Giampiero Prina, Svend Erik Noerregaard, Art Taylor, Kenny Clarke, Vernel Fournier, Sangoma Everett, Terry Lyne Carrington, Bill Goodwin, Billy Cobham, Alvin Queen, Ben Riley, Lewis Nash, Ed Thigpen, Dre Pallemaerts, Billy Higgins, Peter Schmidlin, Daniel Humair, Marvin Smitty Smith, Billy Drummond, Bobby Durham, Louis Hayes, Adam Nussbaum, Grady Tate, Connie Kay, Jimmy Lovelace, John Engels, Eliot Zigmund, Roberto Gatto, Greg Hutchinson, Karriem Riggins, Jimmy Cobb, Jeff Hamilton, Joe LaBarbera, Tony Reedus, Sam Woodyard, Albert Tootie Heath, Alfredo Golino, Mark Taylor, Stefano Bagnoli, Idris Muhammad, Billy Hart, Enzo Zirilli, Byron Landham, Minino Garay, Frits Landesbergen, Adam Cruz, Oliver Jackson, Jeroen De Rijk, Adrienne West, Kat Alston, Roberta Gambarini, Shawnn Montero, Alan Harris, Carla Cook.