VIDEO
__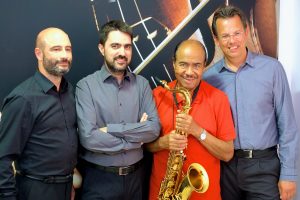 300 ppp, color (download)
OTROS IDIOMAS
__
biografía en castellano
BIO
__
Born in Philadelphia in 1929, Benny Golson began his career studying the piano, but everything changed when he heard tenor saxophonist Arnett Cobb playing Flying Home with Lionel Hampton's band. His parents bought him a saxophone, and between 1947 and 1950 young Benny attended the Howard College in Washington.
In 1951 Golson got his first job with Bull Moose Jackson's band, where he met Tadd Dameron (who pointed him in the right direction as a composer and arranger) and Philly Joe Jones. In 1953 Golson had the opportunity of playing again with Dameron in a group including Clifford Brown, Gigi Grice, Cecil Payne and Philly Joe Jones, and later the same year he joined Lionel Hampton's Big Band, and was recommended by John Coltrane to play in a short-lived large band led by Johnny Hodges. From 1954 to 1956 he played in Earl Bostic's band, and in June of 1956 joined Dizzy Gillespie.
During this period he composed tunes like I Remember Clifford or Stablemates, and formed a group with Kenny Dorham, J.J. Johnson, Wynton Kelly, Paul Chambers and Max Roach, recording for Jazzland the LP Reunion, which included classic examples of his skills as a composer and arranger, like Out of the Past, Venetian Breeze and Blues on Down.
From February 1958 to February 1959 Golson played with Art Blakey's Jazz Messengers, and contributed with his arrangements and compositions to define the style of the late great drummer's band: tunes like Are You Real?, Along Came Betty, The Drum Thunder Suite and, specially Blues March became landmarks of the Messengers' repertory. In July 1959, Golson formed his own quintet: trumpet player Art Farmer joined the band late the same year, and one of the most influential groups of the sixties was born: THE JAZZTET. In 1962 Golson recorded for Mercury his most celebrated composition, Whisper not, included in the LP Tonk.
Between 1964 and 1966, Golson traveled to Europe, worked for the British television, appeared in many Jazz Festivals, and wrote the soundtrack for a movie in Munich. From this point on, Golson concentrated more and more in his career as a composer and arranger: in 1967 worked for the Universal Studios in Los Angeles, and from 1968 on he wrote music for singers such as Peggy Lee, Lou Rawls, Nancy Wilson, Sammy Davis, Diana Ross and O.C. Smith.
Golson has also written music for many TV series, such as Mash or Bill Cosby's Show. In the classical idiom Golson has written a concerto (premiered ad Lincoln Center, New York), a violin piece for Itzhak Perlman (also premiered at Lincoln Center) and a piano composition for André Watts.
Golson is featured on an imposing number of recordings with such luminaries as Clifford Brown, Art Farmer, Art Blakey, Lee Morgan, Roland Kirk, Lem Winchester, Dizzy Gillespie, James Moody, Jimmy Cleveland, Sabih Shihab, Philly Joe Jones, George Russell, Frank Rosolino for classic Jazz labels like Riverside, New Jazz, Cadet, Contemporary, United Artists, Mercury, Audio Fidelity, Jazzland, Prestige or EastWind.
One of the most important names in the evolution of contemporary Jazz, Benny Golson's contributions -both as a soloist and as a composer/arranger- are huge. Originally inspired by Coleman Hawkins, Don Byas and Lucky Thompson as an instrumentalist, he later absorbed the influences of John Coltrane, Sonny Stitt and Stan Getz to create an extremely personal style, at the same time refined and expressive. As a composer, Golson has contributed to the repertory of almost every Jazz musician or singer, and many of his original compositions, like Whisper Not, Out of the Past or Blues March are amongst the most played and recorded in contemporary Jazz.